>> RFID Inlay >> Dual Frequency RFID Inlay



Dual Frequency RFID Inlay
What is RFID PRELAM/INLAY?
RFID Prelam/Inlay, also called RFID card inlay, contactless card inlay, as core part of RFID card, RFID prelams are inlays for RFID cards production. These cards are suitable for printing as ID cards, membership cards, loyalty cards, door access cards, business cards and many other such uses. Our plastic blank cards have been especially manufactured and packaged to be clean from dust.

Premium Quality For Card Applications
Sencan offers a broad range of PRELAM products and card inlays. Designed for the particular requirements of card manufacturers, our products fulfill highest requirements regarding reliability, durability and mechanical robustness.
Sencan provides card manufactureres with a durable and convenient solution for tha manufacture of finished cards. PRELAM stands for pre-laminated. This meas fusing together single laryes under pressure and high temperature in special lamination press machinery after the electronic parts have been embedded into the carrier material and assembled.
Sencan RFID prelam could incorporate pre-winding coil or ultrasonic embedding copper antenna, even FLIP chip etching antenna upon the customer's requirements. The prelam is made of material PVC.
We could develop any size and shape of antenna that can be adapted to the specific requirements of the customer. Reliability, durability and prefect electrical performance, compliant with divers standards. GEE-IN-100 is a sheet type RFID inlay, which is specialized made for factory use. Through post composing, die cutting and printing, these inlays finally are made into various colorful RFID cards we have seen in our life.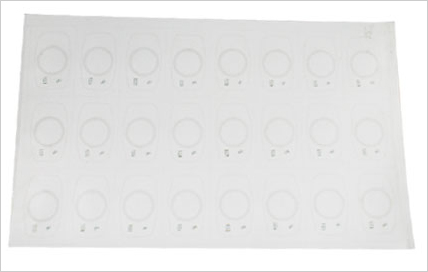 Dual Frequency RFID Inlay For Card, Customized Dual Frequency
1.Material: PVC, PET, ABS
2.Dimension: 310mm*468mm, Max size:520mm*420mm, A4210mm&297mm
3.Layout: 4*5, 5*5, 4*6, 4*7, 4*8, 3*6, 3*7, 3*8
4.Typical used: Smart card patch, RFID tag, smart card Kernel etc.
5.Bonding: wire bonding
6.Thickness: HF normal 0.45mm, 0.5mm, min0.3mm; LF normal 0.6mm, min0.5mm [copper coil], 0.38mm (tag)
7.Package: 200pcs/box, 2000pcs/carton; carton size: 50*24*15cm




* Any question or inquiry about RFID card and RFID related products, please send email to info@oprfid.com, we will reply you within 24 hours, thanks