>> RFID Tags >> PPS Soft RFID Laundry Tag



PPS & Soft RFID Laundry Tag


The RFID Laundry Tag has been specially designed for applications requiring a rugged transponder that can withstand harsh environment, this RFID tag basically meets all requirements in terms of heat, pressure and chemical resistance as needed in applications of RFID tracking of garments in the textile rental and laundry industries.
Key Application
Laundry
High Temperature Resistance, Corrosion Resistance
Available IC's 125KHz, 13.56MHz, 860-960Mhz
Printing Options
Laser Print
PPS RFID Laundry Tag
Material: PPS+ Epoxy
Reading Distance: Depending on the reader design and local installation conditions
Applications: Any application requiring high temperature resistant
Color: Black
Operating Temp: -25℃ ~ +90℃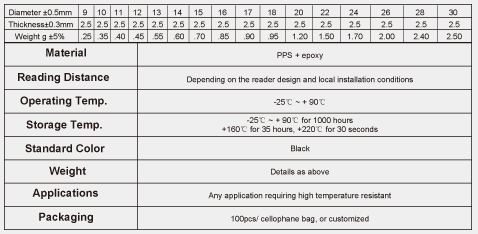 Soft Laundry Tag

Key Application
Widely using for laundry managemnt;
And high temperature working environment and so on
Description
RFID laundry tag, soft, flexible, convenience wearing,
waterproof, high temperature resistant,
tagging for washing, sewing and ironing.

Material: Silicone
Dimension: 90x28mm, 45x30mm, customized
and holes on both end.

OperatingTemperature: -50 ℃ -200 ℃
Color: Blue, Black, white or in customized color
(quantity over 5000pcs).
Available IC's 13,56MHz, 860-960Mhz
Printing Options
Silkscreen print or laser print.


* Any question or inquiry about PPS Soft RFID Laundry Tag and RFID related products, please send email to info@oprfid.com, we will reply you within 24 hours, thanks