"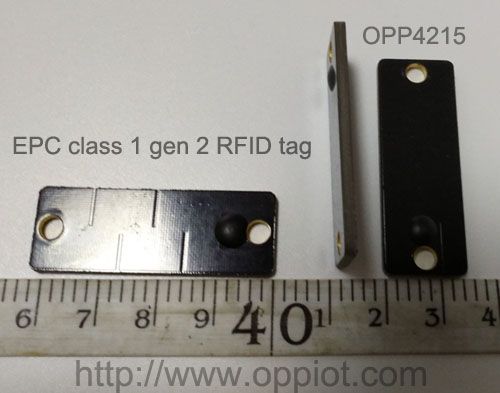 OPP IOT has released UHF EPC class 1 Gen 2 RFID Metal Tags OPP4215 designed for logistics application, such as in automotive manufacturing, aerospace, energy, IT and construction markets. This EPC class 1 gen 2 RFID tag is suitable for environments with extreme conditions, including those with high temperatures(280°С for 50 minutes, 250°С for 150minutes), low temperatures and around metal.
By using UHF reader within read range from 5.3 meter to 7 meters, you can gain details, track precisely the products and store the data when the tagging cartons are loaded onto a pallet. And like barcode, these UHF Gen 2 RFID tags OPP4215 can be also printed with the logos and code numbers.
This EPC class 1 generation 2 RFID metal tag OPP4215 could withstand the hash environment, like in the water and acid, and be easily attached to any metal surface with its 3M glue on the back side. Therefore, with widely using in the logistics, the tags help to ensure the time of tracking the goods and enhance the security.
More view http://www.oppiot.com/uhf-metal-tags-dolphin-series-opp4215.html