RFID Antimedtal Hard tag is a highly integrated,800-bit memeory,single chip UHF RFID tag IC.
The chip conforms to the epc global class 1 Gen 2 specifications and provides state-of-the-art performance for a broad range of applications.
UHF RFID Antimedtal Hard tag
Applications:
1.supply chain management
2.Distribution logistics
3.Product Authentication
4.Asset inventory and tracking
5.Baggage Handling and tracking
6.Item level taggin
RFID Antimedtal Hard tag Description:
Waterproof, Dustproof: IP67
Material: ABS
Operating frequency: 860-960MHz
User Memory: 512 bits
Size: 135mm×22mm×12mm (thickness), Hole dimeter:4mm, Distance between two holes:120mm
Chip: Alien Higgs-3 (Option: Alien Higgs-4/Monza 4D/Monza 4E/Monza 4QT)
Available reading distance: up to 15 meters, depend on your reader
Available operation life: ≥10years
Working temperature range: -25C to 85C
Standard:ISO18000-6C
Mounting: Fixed with screw or label adhesive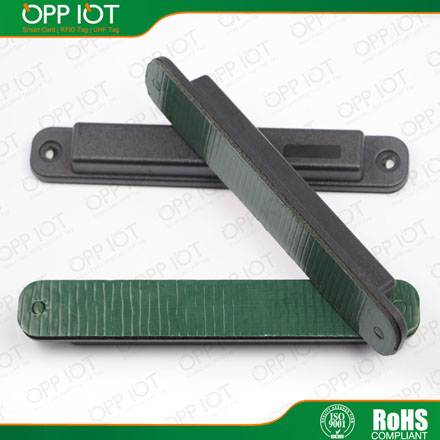 UHF RFID Hard Antimetal tag Features:
1.Meets Epcglobal Gen2(V 1.2.0) as well as ISO/IEC 18000-6C:2004 / Amd 1:2006(Type C)
2.Worldwide operation in the RFID UHF bands(860-960 MHZ)
3.800-Bits of Nonvolatile Memory
a.96-EPC bits,extensible to 480 bits
b.512 user bits
c.64 bit Unique TID
d.32 bits access and 32 bit kill passwords
4.Pre-programmed with a unique,unalterable 64-bits serial number.
5.User memory can be block perma-locked as as reader password protected in 64 bits blocks.
6.Supports all mandatory and optional commands including item level commands.
7.Custom commands for high speed programming;30 tags per second for the 96-bits EPC number.
8.Low power operation for both read and program.
9.Exceptional operating range,up to 10m with appropriate antenna.
Product overview:
RFID Antimetal Hard tag operates at extremely low power levels,yet still provides sufficient backscatter signal to read tag at a extended range.it can also be programmed at low RF power and,in conjunction with a custom command -loadimage - can be programmed at high speed.RFID Antimetal hard tag is implemented in a low cost CMOS process and uses proven and cost effective EEPROM Technology.

RFID antimetal Hrad tag offers a flexible Memory architecture that provides for the optimum allocation of EPC and User memory for different use cases such legacy part numbering systems and servvice history.User memory can also be read and or write locked on 64-bit boundaries,supporting a variety of public/private usage models.

The IC also features a factory programmed 64-bit serial number that can not be altered.in conjunction with the EPC code,this provides a unique 'fingerprint' for the tagged item.
Any order or inquiry,pls contact us:
OPRFID Technologies., LTD.
2104 Room SANDI International Finance Centre, 249# MingXin Street LongQiao, ChengXiang Putian City Fujian, P.R, China.
P.C: 351100
Tel: (0086)594 2790031
Fax: (0086)594 2790185
Email:info@oprfid.com
oprfid@hotmail.com