>> RFID Technology News >> Cosmetic Security label



Cosmetic Security label
This EAS RF label is designed for the cosmetic to sure the security. It is very great security label which is sticker on the cosmetic. It is transparent and small very suitable for sticking on the outside of cosmetic. You can through clear window label see the barcode.
Cosmetic security label with standard EAS 8.2MHz frequency. It is compatible with checkpoint and other 8.2MHz Radio Frequency anti-shopping system.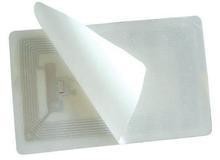 Description:
Frequency: 8.2MHz
Dimension: 19x65 mm
Brand: Checkpoint
Package: 2000pcs/roll, 20000pcs/cnt
N/W: 9.04KG
G/W: 9.20

Application:
Security label for cosmetic or other products need anti-thief

This cosmetic security label could not bending to 90 degrees and please not stick this label on another the label. And it could not be used on the metal surface.

Principle of the RF burglar alarm system:
Fundamentals of RF radio (RF) system is the existence of a fixed frequency (8.2MHz) detected by the RF antenna effective soft goods, hard tags to achieve security purposes. The physical basis of the detection antenna emits electromagnetic waves with a frequency of 8.2MHz, 8.2MHz when the natural frequency of the soft and hard tag (actually a natural frequency of 8.2MHz of LC oscillator circuit) enters the detection area, is excited with the frequency of the electromagnetic wave generating stimulated shocks. Resonant tag will result from the detection antenna gain energy, this energy causes the shock generator (detection antenna) circuit generates an instantaneous change in voltage or current. This current change will be detected, and thus generate an alarm signal. Now widely used in supermarkets, department stores. Its advantage is the shape of a radio antenna system is relatively lightweight, protection channel width wider. But the drawback is also very prominent radio system. The most deadly is the soft sign afraid foil and metal packaging, namely fear metal shield.

* Oprfid.com is a professional RFID card and NFC tags manufacturer in China. We can provides many types of RFID cards, RFID tag and smart card with various frequency in different shapes. Any inquiry, please send email to info@oprfid.com, thanks!