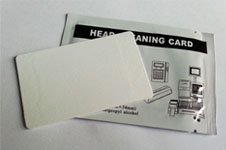 Card Reader Cleaning Card CR80

Card size 3 3/8" x 2 1/8". Pre-saturated and individually sealed. Reduces residue build-up without the need to dismantle and service the equipment.
Made with compressible fibers for superior cleaning performance, this double-sided cleaning card cleans the read head and entire track of a magnetic stripe reader in one pass. The card can be used in insert, swipe, and motorized readers. Magnetic card readers are used extensively in various industries. These readers are a key component in Hotel Encoders, ATM's, POS, Credit Card and Insert equipment. Reader failures and errors are linked to dirty reader heads caused by poor maintenance and the contaminants.
Size(mm): : 85.5x54
Thickness(mm): : 0.86
Packing: : neutral packing,50pcs in a box,2500pcs in a carton
Card reader cleaning cards will safely and effectively remove dirt, magnetic oxides, oils, lotions, and other pollutants built on magnetic head. Cleaning cards are a cost-effective way to maintain your card readers and prolong the life of magnetic heads.It will clean:
Swipe ATMs
Credit/Debit card readers
POS terminals
PVC card printer
Access control card reader
Gas station equipment
Pay phones
Hotel door locks
Parking system equipment
IC card readers
Smart card readers
More manual swipe readers and insertion readers
Usage:
To clean the swipe readers:
Simply swipe the cleaning card through the card reader back and forth,until there are no residues in card reader.
To clean the insertion readers: Insert the cleaning card into the reader,then quit. Repeat this action several times,until there are no residues in card reader.
After cleaning, simply dispose of the card.
We recommend:
Once per day for external or high usage card readers.
Once per week for internal or low usage card readers.



* Any question or inquiry about rfid card and rfid related products ,please send email to info@oprfid.com,we will reply you within 24 hours,Thanks