We are embed RFID inlay in Kraft paper envelope. The RFID inlay is embedded and hidden.

RFID File Tracking is a must for a compliant and efficient paper record management system. With RFID tags, tracking of physical files and documents becomes fully automated. This includes rules-based authorizing access, recording check-in and check-outs, and providing inventory scans for efficient records mangement.

Ultra high frequency RFID is suitable for many applications in most environments, provides virtually 100% accuracy with a range of 6-10 feet, and is highly scalable, flexible, and affordable. Ultra high frequency RFID is perfect for businesses that need fast and simultaneous reads of large quantities of items.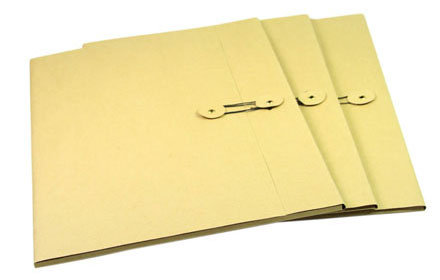 RFID Document Tracking Tag Specification:
| | |
| --- | --- |
| RFID Protocol | EPC Class1 Gen2, ISO18000-6C |
| Frequency | 860MHz to 960MHz |
| IC type | Alien Higgs-3 (or Monza M4QT) |
| Memory | EPC 96bits (Up to 480bits) , USER 512bits, TID64bits |
| Write Cycles | 100,000times |
| Functionality | Read/wirte |
| Data Retention | 50 Years |
| Metarial | Kraft Paper |
| Size | 350x240x5mm |
| RoHs | EU Directive 2011/65/EU |
| Work Temperature | -20℃ to +50℃ |
| Storage Temperature | -25℃ to +70℃ |
RFID Document Management is growing in popularity among companies because of RFID's ability to accurately and efficiently track files in the workplace. By placing RFID inlay on files and paperwork and setting up the proper RFID infrastructure, you can successfully locate files within minutes, which saves time & money, reduces stress, and increases professionalism.