Mifare DESFire 4K ev1
The MIFARE DESfire is designed for multi-application, such as public transportation, physical access control and e-Government program. With delivering perfect balance of cost efficiency, speed and card performance, MIFARE DESfire's open concept allows future tailored integration of varies ticketing form such as Keyfobs, Combiwatch, smart paper tickets and mobile phones with Near Field Communication technology.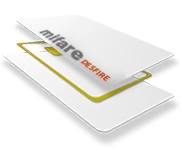 The MIFARE DESfire is a special release of NXP SmartMX platform. Featuring an on-chip backup management system and the triple Des authenication, a MIFARE DESFire card can store and hold up to 28 different applications and 16 files per application.
Mifare DESFire 4K ev1 operates at a distance of up to 100mm and in accordance with the international standard ISO14443A perfectly meets mid-end transportation segment needs including security and cost effectiveness. It features a 4Kbyte non volatile memory, a high speed triple-DES data encryption co-processor, a flexible memory organization structure, a mutual 3-pass authentication technique together with a true random number generator
Mifare DESFire 4K ev1

Mifare DESFire has more hardware and software security features than the standard MIFARE Classic chips. It is solid programmed with DESFire operating system. that offers a simple directory structure with fles, similar to what is typically found on contact smart cards.

Mifare DESFire ISO proximity card is widely used in the secure RFID applications, It is great solution for payment, access control, identifcation.

We manufacture both blank card, and pre-printed card.

About MF 3 IC D40 IC:

- IC manufacturer: NXP founded by Philips
- Wafer die: MF 3 IC D40
- Function: Read/Write protect by 128-bit AES crypto
- Memory: 4K-Byte EEPROM 16 pages of 4 bytes.
- Frequency: 13.56MHz
- RF protocol: ISO 14443A-4
- Modulation: ASK

Key Feature of Mifare DESFire Card:

- Dimensions: CR80 85.60 x 53.98mm
- Thickness: 0.84mm
- Material: PVC, PET
- Card Surface: Matte/ gloss finish
- Housing: Lamination
- Working Frequency: 13.56MHz
- Reading Distance: 6cm typically
- Data storage time: 10 years
- Package: 200pcs per Inner Box; 20 Inner Boxes per Carton, each Carton gross weight at 28KGs

Printing Option:

- Full color offset printing
- Silk-screen printing
- Silver/Gold silk-screen printing background

Options on standard card:

- Magnetic Stripe Option: 300oe, 2750oe, 4000oe
- Numbering: Jet dot/ Thermo transfer/ Laser engrave
- Barcode printing
- Signature panel
- Embossing

* Any question or inquiry about rfid card and rfid related products ,please send email to info@oprfid.com,we will reply you within 24 hours,Thanks