"
Woven Wristbands
If you're looking for
polyester woven wristbands
or security and event wristbands then call OPRFID today. We specialise in the affordable production of quality woven security wristbands. Custom made woven wristbands obtain a unique security advantage over any other traditional type of wristband in the fact that they are impossible to copy or reproduce without large scale weaving machines. Combine this with a one-time use security clasp and you have a unique form of ID for any concert, event or entry point that needs to quickly confirm patron validity. Woven wristbands are tough, and can last weeks in all types of conditions. Wether is hot, cold, humid or submerged under water. Our wristbands are made to last, and are instantly and easily recognisable from a distance. With up to 6 different thread colours available for your design and a fine resolution, we have the capability of weaving readable text down to 2mm in height. If you need further information or free samples, please don't hesitate to contact us.
Woven wristbands for festivals
Our wristbands for festivals are high quality, waterproof, non-transferrable, stretch proof, tear resistant, tamper evident, sequentially numbered for monitoring patrons and available with a wide variety of security measures such as barcoding, single use clips, microtext, photo image printing and more.
Woven Wristband uses at Festivals
* Secure admission and identification upon entering the festival.
* One day, 2-3 day or even 7 day access for festival patrons depending on the wristband utilised.
* Camping access for multiple days
* A'pass out'in replace of stamps when patrons leave the festival but intend to return (low cost Tyvek ideal for this)
* To identify VIP's in special areas
* To identify media, crew and security at the festival
* Age verification, to prevent underage drinking
* With barcodes included, to electronically monitor activities of patrons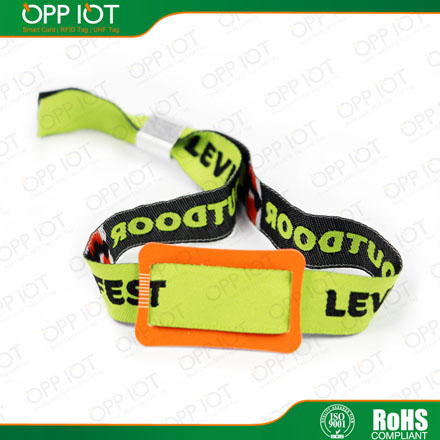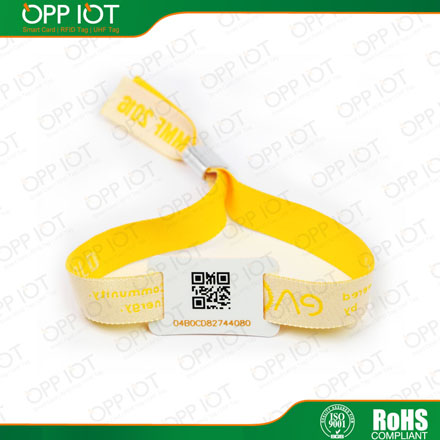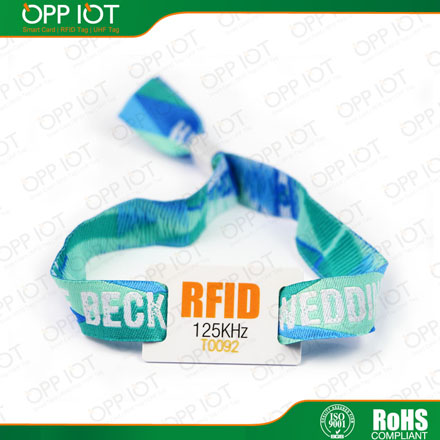 Customising your Woven wristband
Our wristbands can be 100% customised with text and imagery to communicate a message, promote your brand or even link to your website. The branding benefits are exceptional, and customisation also provides you with the opportunity of 'selling' this space to sponsors or partners, who can then use the space to advertise their own brand! Additionally, guests will be more likely to keep the wristband as a souvenir if it includes logo's and other imagery to remind them of the great time they had at your festival.
* Logo, full colour photo image quality where necessary
* Text/content
* Linear barcode
* QR barcode – scanned with a smartphone, links directly to your website
* Sequential numbering
* Microtext
* Single or two sided printing
* Detachable stubs
Any question or any order,please contact us:
OPRFID Technologies., LTD.
2104 Room SANDI International Finance Centre, 249# MingXin Street LongQiao, ChengXiang Putian City Fujian, P.R, China.
P.C: 351100
Tel: (0086)594 2790031
Fax: (0086)594 2790185
Email:info@oprfid.com
oprfid@hotmail.com