>> Cleaning Card >> Thermal Printer Cleaning Card



Cleaning Card for Barcode Label Printer

This Thermal Printer Cleaning Card uses a soft fabric embedded into a plastic core to create a presaturated disposable card. The cleaning card delicately yet effectively remove all dirt, ink, tape and adhesive residue and other contaminates from thermal print heads, paper guides and paper paths. This product will improve printer quality and legibility. It will also increase output, print head life, printer life, reliability and performance. Material laminated to a plastic core for strength.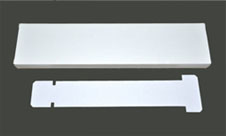 Size(mm): 152×80, 152X102, 152X51, 152X63.5
Thickness(mm): 0.3-0.5
Packing: neutral packing, 25pcs in a box, 1000pcs in a carton
This is a thinnest cleaning card, It can ensures that the print head and all internal components are cleaned safely and effectively every time a roll of paper  is loaded into the equipment. With routine cleanings you can expect optimal image quality and a longer life for your printer. One insert, it can remove the accumulation of dirt, ink, tape, adhesive residue and other contaminants from print heads, paper guides and paper paths.
Thermal printer cleaning cards can be used on label printers, direct/transfer thermal printers, airline ticket bag tag (ATB) printers, barcode printers and receipt printers. A cleaning card should be used before inserting every new roll of label, ticket, paper or ribbon stock.
* Any question or inquiry about cleaning cards and RFID related products, please send email to info@oprfid.com, we will reply you within 24 hours, thanks