>> RFID Technology News >> Smart Cards >> Clamshell Card



Clamshell Card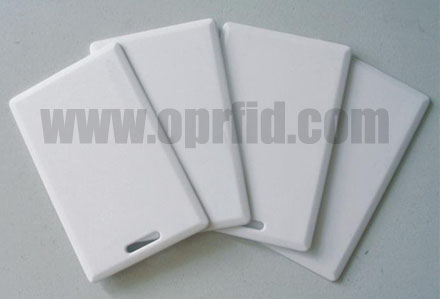 Clamshell card, made from ABS material and chips embedded, is widely used for access control and time attendance. The card surface is available with jet-dot printing number and silk-screen printing logo.
The other way is to use for photo identification card, which use the PVC stickers with printing and adhesived on backside.
It is also available with color clamshell card, such as blue/red/yellow to make your system unique than others.
There are 2 advantages of clamshell card:
1. Better performance of card reading distance, better than ISO thin card. Such as 1.0m upon the long range readers.
2. Low cost choices.
Features
1. Card dimensions : 86 x 54mm (CR80)
2. Thickness : 1.8mm or optional
3. Material : ABS
4. Color : white, blue, red, yellow etc.
5. Operating temperature : -10°C to +50°C
Chip available
1. LF (125KHz) : EM4102, EM4100, TK4100; T5577; HITAG1, HITAG2, HITAG S256 etc.
2. HF (13.56MHz) : MIFARE Classic 1K S50, MIFARE Ultralight etc.
Personalization
1. Silk-screen printing with metallic, sliver effect
2. Serial number or UID number printing: Inkjet print number, Laser print number
3. Chip encoding
Applications
1. Access control
2. Time attendance
3. Hotel locks
4. Staff identification

* Any question or inquiry about RFID card and RFID related products, please send email to info@oprfid.com, we will reply you within 24 hours, thanks